Reprinted with permission of the Columbia Missourian.
Just a thought or two on this 50th anniversary of King's "I had a Dream" speech. 
Wednesday, August 28, 2013 | 1:55 p.m. CDT; updated 4:16 p.m. CDT, Wednesday, August 28, 2013
I tell people I was born and raised in New York City. That is not exactly true. I was born on Long Island, the county of Nassau, Township of Oyster Bay, hamlet of Hicksville. Some 20 miles east of Manhattan, it is easier to say New York City than to explain.
I was 11 years old when the Rev. Martin Luther King Jr.'s words "I have a dream" came to life. I do not remember the day or the speech. I was not interested in the happenings of the world outside of my own and would not understand the problems until two years later.
My father owned a bicycle store at the time, one of the largest on the East Coast. The rule in our store was simple: The only color we were concerned with was that of the money. If the $20 was not green, it was Canadian and we had to figure out the exchange rate.
Although the store was also in a white neighborhood, Mineola, N.Y., our clients were of every skin tone, every ethnicity, every language and every religion the city and suburbs had to offer. Rich, poor, black, white. It did not matter. What color was the money?
In May 1963, my mother, then politically active herself, planned to visit a friend. With my sister and me in tow, we were told, "Now this family, they are black but they are not maids. These are people like we are," meaning the family owned their own business. I did not understand why it was so important to tell us this fact. It made no sense.
By my 13th birthday in 1965, I was becoming very aware of race and the problems the black communities were having. I saw the poverty and the discrimination, but unlike the southern states, discrimination in the northern cities was covert. There were not "Whites only" or Blacks only" signs at the local Woolworth's, but the blacks always ate on one side of the restaurant. Discrimination was not hard to see. You just needed to know where to look.
Today in my speech communication classes, I talk about the Rev. King's "I Have a Dream" speech. Though King was scheduled to speak that Sunday, he was not feeling well and did not wish to talk. The history is a bit muddled here, but he was convinced to speak that day and began what could have been a mediocre speech. It was when he put his formal notes away, when King went into the depths of his soul and started to preach for equality, that this became one of the greatest speeches in U.S. history. For me, second only to the Gettysburg Address.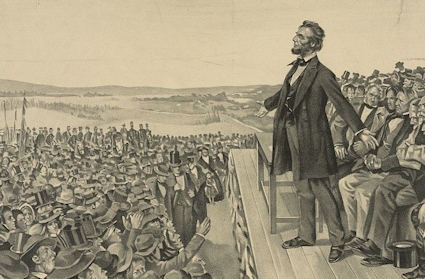 Contrary to popular belief, the Gettysburg Address was not written on the train from Washington by Lincoln, only revised. Lincoln was never big on long-winded speeches when a few words would do. Former Sen. Edward Everett would later say of Lincoln's speech that he wished he could have said in two hours what Lincoln said in four minutes. I am sure there are those who wished they could have said what King said so eloquently 100 years later.
We all have dreams for a better planet. But to get there, we must look forward with our eyes wide-open, not behind with our eyes hard-shut. Ours is no longer that lily-white country as Hicksville is no longer a white township. My hometown now consists of Vietnamese, Cambodian and Hispanic people living side by side with their white neighbors.
We must acknowledge that soon whites will make up less than 50 percent of the population and that Spanish is our second language, with Chinese a not-so-distant third.
We must acknowledge that protectionist measures like voter ID legislation will not halt the influx of new immigrants who wish to become citizens so they, too, can vote. That even Native Americans were immigrants to this land from Asia and Europe long before Leif Erickson landed in the New World about 1,000 C.E.
Today the bigotry concerns more than skin pigmentation, but it is ethnicity, religion, language and national origin.
I believe that if King had lived long enough, he would have heard the words of John Lennon's "Imagine" and would have approved of the idea of eliminating all of the barriers to "let the world live as one."
David Rosman is an editor, writer, professional speaker and college instructor in communications, ethics, business and politics. He writes a weekly column for the Missourian.

Like what you see in the Columbia Missourian? Become a member.