Nothing has been happening in the world of religion and I have not been inspired to write… UNTIL NOW.
It was the headline on a Raw Story article that caught my attention:
"Alabama Bible school puts Hitler quote on billboard to encourage youth indoctrination."
Now this was a billboard the purchased in Auburn by the Life Savers Ministries of Opelika, Alabama. LSM operates a bible school and this was supposed to be an inspirational message to have children indoctrinated into the cause. The quote comes from one of Hitler's 1935 speeches, "He alone, who owns the youth, gains the future."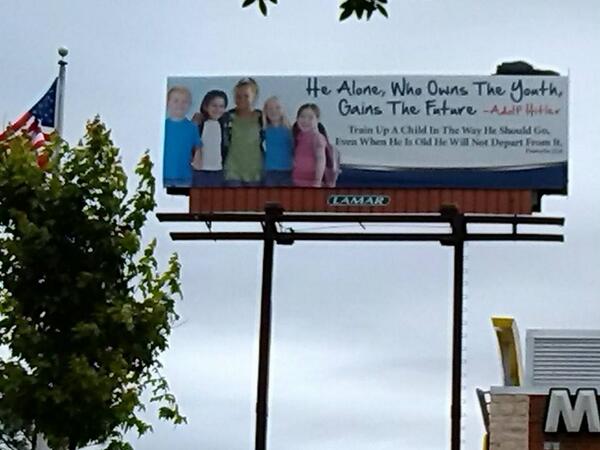 Interestingly, the Huffington Post – Religion story made one very probing note. "Curiously the board did not include the name of Life-Savers Ministries, leading some Alabama residents to wonder about its origin." 
I can think of a lot of better people to quote than Adolf Hitler from Anonymous to Henry Ward Beecher to Dr. Seuss. I particularly like a quote for a religious group from Wess Stafford, President, Compassion International, who said, "Every child you encounter is a divine appointment.
One quote concerning children I find most appropriate for the Atheist/Agnostic/Skeptic crowd is, "Children are great imitators. So give them something great to imitate."
That "something" is the ability to think critically, and the understanding of science and mathematics. Allow the child to learn about all of the religions and non-religious movements our nation so happily enjoys. We need to make it clear that using hate as inspiration is not acceptable in our society.
It is unfortunate that we see hate in too many Christian signs and slogans. It's not all Christians, mind you, just a small contingent of evil doers.
I am finishing up on my second book concerning the Christian Conservative arguments against marriage equality. Even with the change in American morality (a secular not sectarian vision of right versus wrong), the hate monger persist, even to the point of calling out their more liberal brethren. Now it is time for the liberal Christian community to call out those who use hate and hate messages as a calling to their irrational doctrines.