Happy Thanksgiving!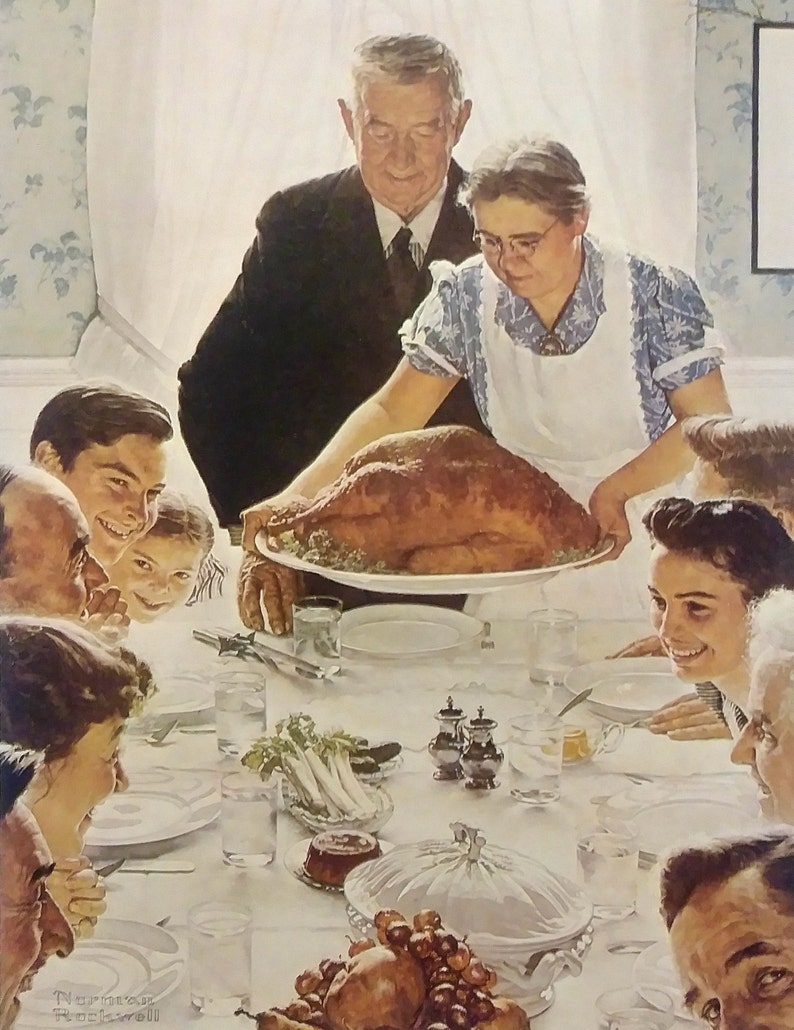 You remember Thanksgiving, don't you? That secular holiday that falls between Halloween and Christmas? The holiday that celebrates the fall harvest and the survival of the first New England colony?
It appears that there is a concerted effort to remove Thanksgiving from the calendar and replace it with Black Friday and the holiday shopping season.
Two weeks before Thanksgiving and I have been bombarded with Christmas carols at the retail store. I have seen commercials for early Black Friday sales from car companies and a posting by the New York Times.
I realize that Christmas represents almost 75 percent of retail sales for many stores. I realize that the efforts to out-sell last year are of major concern to the brick and mortar stores competing with the online retailers. I realize that the winter holiday season represents a major boost to our economy.
But why ignore Thanksgiving?
For Halloween, The National Retail Federation (NRF) estimated that consumers spent "$3.2 billion on costumes, $2.6 billion on candy, $2.7 billion on decorations and $390 million on greeting cards."
In 2018 it was estimated that consumers spent "719.17 billion U.S. dollars on Christmas gifts and parties; a 4.55 percent increase from the previous year." And that number will undoubtedly increase in 2019.
In contrast, Thanksgiving spending is lumped in with Black Friday, Small Business Saturday and Cyber Monday sales for Christmas. In fact, most retailers expect to be open on Thanksgiving Day, extending their Black Friday sales hours to Thursday afternoon.
After a brief Google search, it seems nearly impossible to truly separate sales strictly for Thanksgiving dinners from the holiday sales numbers. According to a 2017 report from the American Farm Bureau Federation (ABF), the average cost of a traditional Thanksgiving dinner is at a five-year low. I see no change for 2019.
By packing Thanksgiving into the "Holiday Retail Season" we are losing our traditions and reasons for eating turkey and spiral cut ham on the fourth Thursday of November. Of course, if you are Jewish replace the ham with an overcooked pot roast.
According to History.com, "In 1621, the Plymouth colonists and Wampanoag Indians shared an autumn harvest feast that is acknowledged today as one of the first Thanksgiving celebrations in the colonies."
Norman Rockwell famously captured the Thanksgiving feast in his painting Freedom From Want. But somehow, we have forgotten about the feast and envisioned early shopping for Christmas (or Chanukah).
Oh, there will be some "doorbuster" items for sale to lure you in, but for the most part, you are going to get the same deals on Black Friday as you will on the following Tuesday. Even the online stores will have a limited number of "doorbuster" items for sale just to get you to buy on Cyber Monday. Why fight the crowds? Remember that retail sales, whether online or in a brick and mortar store, drive the economy.
I will be working my retail job from 1 until 11 pm on Thanksgiving Day. I'll miss the dinner being prepared by my sister-in-law. The store will open at 2:00 pm, stay open overnight and close at 10 pm on Friday. We expect to be busier than a one-armed paper hanger.
So my advice is to stay home this Thanksgiving. Enjoy the company of family and friends and leave the shopping to those who believe that they will miss something if they are not knocking down the doors. Come on Tuesday when the crowds are thinner and get the same deals as you would of six days earlier.
Remember, nothing is more important than family and friends. Have a happy Thanksgiving.